Tuesday, December 02, 2008
Monday, December 01, 2008
OK Guys, it's sale time! From now until December 4th, use coupon code ccblog1228 to receive 25% off all PinUpGirlClothing.com purchases, including sale items!


Use this opportunity to do your holiday shopping, or just grab some goodies for yourself!



We've just started a new blog which will showcase different items from our site - for now it's a holiday gift guide, but past the holidays we'll be using it as a supplement to our main blog - it'll be a style guide where we feature different trends, products, and looks. Click Here to check it out, and fill in the form below to subscribe to the blog and get it as an email any day we post a new entry!



Posted by Team Pinup at 12:34 AM 0 comments  

Labels: private sales, style guide, vintage style clothing
Sunday, November 30, 2008
Hey guys, I know that those of you not in the Los Angeles area hate it when I post these things. Sorry! There are lots of you who ARE local, so that's why they get posted here. However, I will have something special for everyone tomorrow, to make up for it - so check back on Monday for a little treat!


Join us Saturday, December 13th for the best recurring Burlesque and Rockabilly Event in Los Angeles - The Whistle Bait Burlesque at The Derby, presented by Viva Los Angeles and sponsored by PinUpGirlClothing.com!


This month's event features double trouble, with burlesque performances by International Pinup and Fetish Model Masuimi Max, and Bad Girl Gone Even Badder Violet Valentine!


Featuring live music by Los Rhythm Rockets, and Appearances by The Pinups for Pitbulls Models, who will be selling and signing their 2009 Pinup Calendar just for you!


Girls, wear Pinup Couture and receive admission into the Pinup Lounge at the regular admission price! Groups, please contact us at our MySpace Page for information about reserving VIP booths, discount group admission, and special rates for car and motorcycle/scooter clubs!


Check out the review of our last Whistle Bait event by the La Weekly: Click here for the article, and here for the slideshow of photos!


CLICK THE FLYER BELOW FOR DISCOUNTED PRE-SALE TICKETS!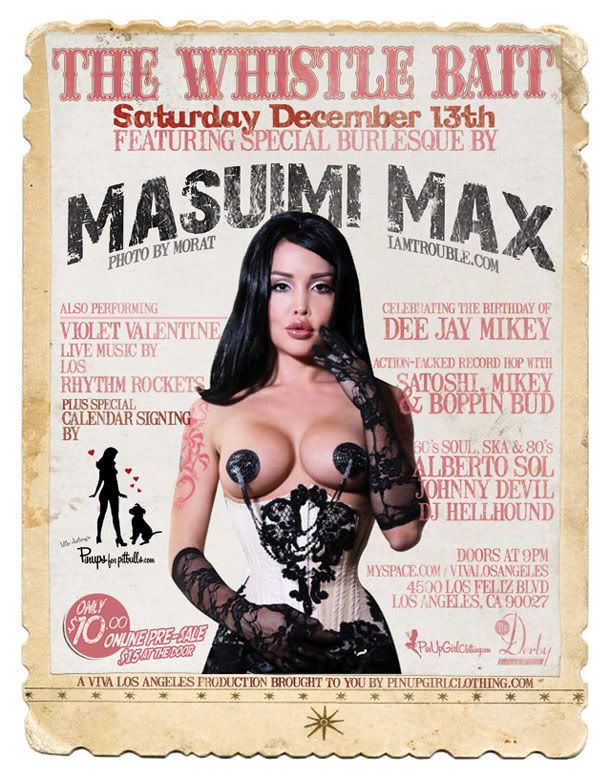 See you there! $10 pre-sale and before 10:30pm, $15 after. 21+

RSVP BELOW:


Posted by Team Pinup at 8:51 PM 0 comments  

Labels: burlesque, masuimi max, pinup girl clothing, viva los angeles