New for the holidays!



Gorgeous new hair accessories for your holiday parties!



New party dresses from XOXO - perfect for New Year's Eve!



The Deadly Curves Bow Skirt in Red by Deadly Dames!

Plus tons of clearance items in all sections, gift ideas (including Gift Certificates!), and accessories.




And don't forget to join us this weekend...

We will be holding a charity raffle benefiting Music Saves Lives at the event!!! Raffle tickets will cost $5 each and all the proceeds from the raffle will go to the charity! Here is a list of some of the fabulous items we will be raffling off:

* A copy of the "Juno" screenplay - signed by Diablo Cody!
* ReVamp and Glenda Gies purses filled with goodies (Such as jewelry and clothes)
* An autographed script and goodie bag from "Days Of Our Lives"
* An autographed "30 Seconds To Mars" mask
* New dresses from our three house brands Pinup Couture, Dixiefried, and Deadly Dames
* New never before seen Eldorado Club Jewelry



Viva Los Angeles and PinUpGirlClothing.com are BACK with the hottest holiday event of the year - Babes In Toyland at Mr. T's Bowl in Los Angeles Saturday, December 12th!


Featuring Burlesque by La Cholita, Kitten DeVille, Violet Valentine, and Dolly Danger!


Live Music by Mather Louth & Radio Noir, and Sin Alley! Dance in between live entertainment to rockin' tunes with DJ Rockin' Vic!


Meet your favorite PinUpGirlClothing.com Pinup Models Doris MayDAY, Micheline Pitt, Ms. Redd, Davida Sullivan, Ivy D'Muerta, and Violet Fiori! Models will be selling signed prints - a great gift!


Arrive early (Doors open at 8pm) and shop our Holiday Boutique, featuring gift items from PinUpGirlClothing.com, Lux De Ville, Mis Cositas, Gangsterbilly, Daddys and Dolls, Dolce Mia, Lucky 13, Layrite, Broner Hats, and Tres Noir Optics!


Admission is $7 before 10pm, and $10 after - 21+


RSVP AND TELL YOUR FRIENDS! SEE YOU DECEMBER 12TH!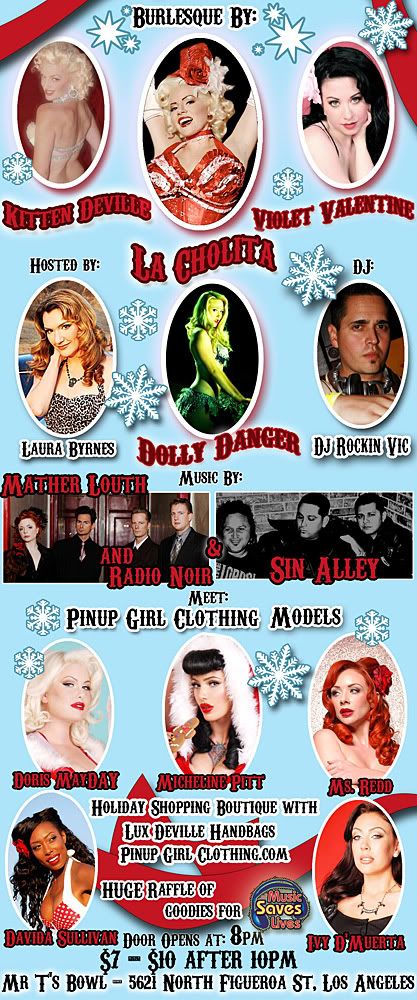 Check out our vendors online: